The WeTogether Project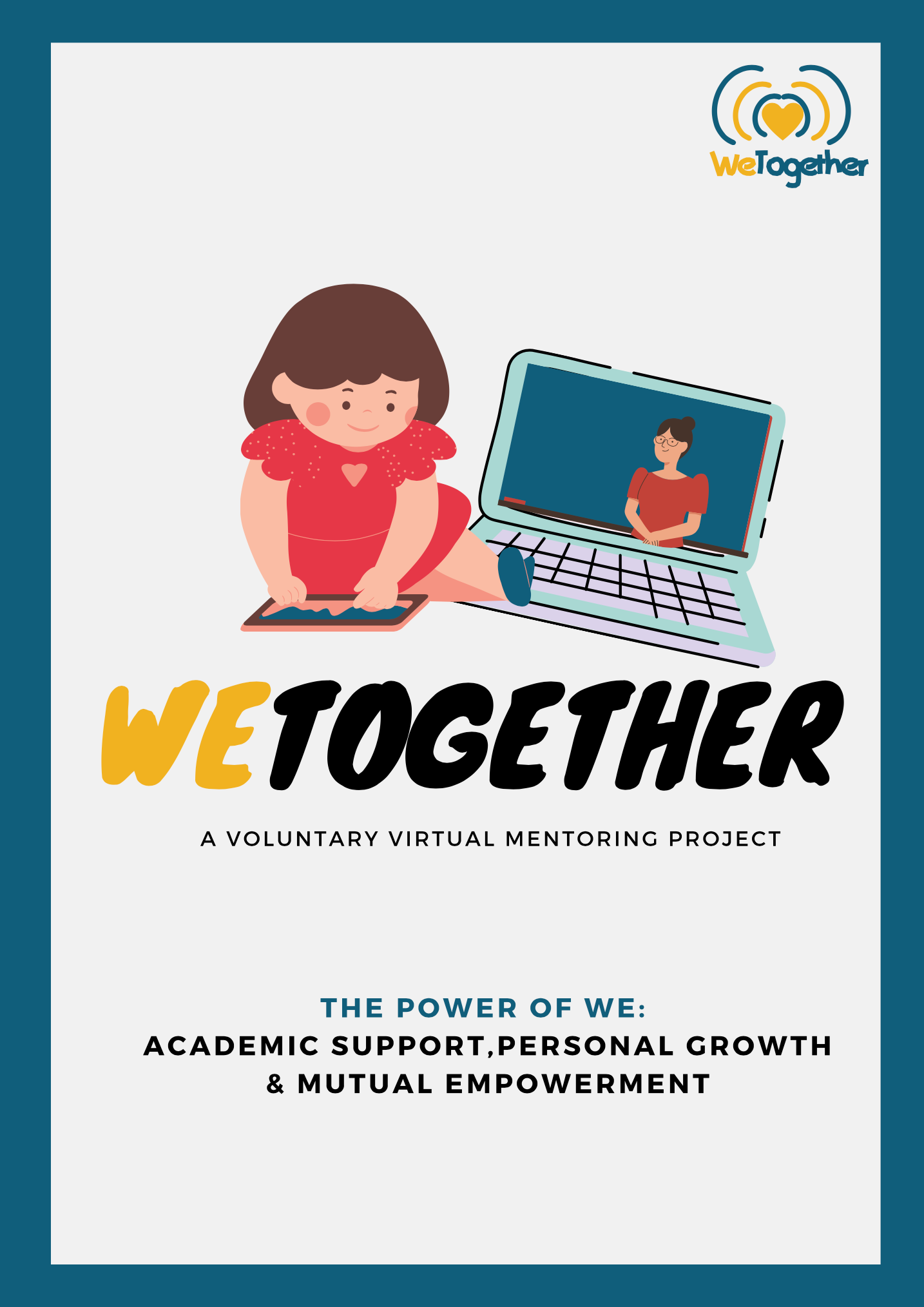 Online Registration (for mentors)
---
WeTogether Project FAQ
About this Project
1. What is this project about?
As a consequence of COVID-19, research has shown that disadvantaged students may have lost one month's worth of learning during shutdowns of schools. It is hoped that this project, which seeks to bring together university students with primary school students in Hong Kong, will help to remedy a portion of the learning loss experienced disadvantaged school pupils in particular.
In our project, "WeTogether", we will pair primary school students (P2 to P3) with university student mentors in an after-school online mentoring programme. Together, they will work on English learning (predesigned workbooks and materials) and transferable skills development (e.g., mental wellbeing; creativity; self-regulation) over a series of Zoom or Google Meet sessions, totalling up to approximately 8-9 hours.
2. Who supports and organises this project?
Our project is part of the "Redesigning Student Learning Experience in Higher Education" award scheme hosted by HERDSA (Higher Education Research and Development Society of Australasia) Hong Kong. It is supervised and run by Dr. Cecilia K.Y. Chan and her team at the Faculty of Education, University of Hong Kong.
3. When will the project take place?
We will initially run this programme from late-March to late-May 2021. After this period, our team will seek funding from the Quality Education Fund, granted by the Education Bureau, to sustain the project long-term and to expand our recruitment of more local primary schools so that the project can benefit more students across Hong Kong.
4. What is the scale of this project?
In the initial stage (from around March to May, 2021), we will recruit around 60 primary school mentees and 30 university mentors. In the future, we aim to expand the project scope and include more students in this process.
5. How are mentors and mentees matched?
Every two mentees will be assigned to one mentor by a co-ordinated matching process, which is based on mentees' and mentors' time schedule and the interests of both parties. Depending on the final number of registrants, one mentor may also supervise more than two mentees (but no more than four) in the programme.
6. What are the typical activities for mentor-mentee(s) meetings?
A typical mentor-mentee meeting will last for approximately 1 to 1.5 hours. During the meeting, the mentor will first guide the mentees through a series of fun English stories to improve their language skills. All the English stories, workbooks, and supporting videos have all been predesigned by the Teaching and Learning Enhancement and Research Group (TLERG) at the University of Hong Kong. At the end of each session, mentors and mentees will also work on some simple, creative art activities together to foster positive and healthy mindsets, and improve personal wellbeing.
7. How often do mentors and mentees meet?
Typically, mentors and mentees meet once or twice a week (approximately 1-1.5 hours each time), depending on the schedules of both the mentors and the mentees. For the initial run of this project (March to May, 2021), the mentoring sessions will total up to around 8-9 hours of virtual face-to-face time.
---
For Mentors
1. What are the benefits of participating in this project?
For mentors, this programme will provide an opportunity for you to enhance your community engagement and empathy, to better understand and reflect on the educational inequality in Hong Kong, and to develop your transferable skills, particularly in your interpersonal and organisational skills.
All mentors will also receive a certificate of participation upon completion of the programme.
2. What are some requirements of becoming a mentor?
In general, we welcome both undergraduate and postgraduate students from different disciplines and years of study at HKU. In particular, we hope you are:
Comfortable with tutoring and mentoring primary school students
Capable of communicating in both English and Cantonese
Able to attend the compulsory training session (around 1-2 hours), which will be held over Zoom or Google Meet
Committed to all online sessions for tutoring (approximately 8-9 hours in total)
3. What if I don't have any tutoring experience?
It's fine! Mentor training will be provided prior to the programme and all the materials used in the sessions have been predesigned. A short handbook with mentoring strategies and tips will also be distributed for you to look over.
4. How can I apply? When is the deadline for application?
Students who are interested in becoming a mentor can register via this GoogleForm:
Online Registration (for mentors)
Registration starts from 2021 Feb 22 and ends on 2021 March 15, 12:00 noon.
---
For Mentees:
1. What are the benefits of being a mentee?
For mentees, the project will support them in English learning through a collaborative and fun process, dealing with mental tensions during challenging times, and developing a number of transferable skills including self-regulation, communication skills, and creativity.
Mentees will also be provided hardcopies of the English workbooks used in the mentoring sessions for free.
2. Who can apply?
Registration is open for all P2-P3 primary school students in Hong Kong, preferably those who are taught in Chinese as the medium of instruction. Unfortunately, we do not accept individual mentee registration for now – interested students/parents may contact their schools for further arrangements. Interested schools may directly contact us (Ms Ivy Chan, ivychan6@hku.hk / 39178180) to discuss further details.
3. Do mentees need to attend sessions in school uniforms?
No, students are not required to attend the mentoring sessions wearing school uniforms.